Health and Well-being with Sasha London-Welker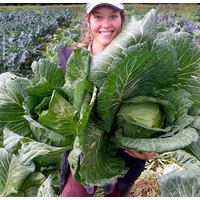 We decided we needed to pick the brains of inspiring people in our community, and listen to what they have to say about finding balance and fulfillment in their daily lives.
Sasha London-Welker is a first generation young farmer. Her farm- Green Goddess Farm, located near Kyogle, grows Certified Organic veggies and flowers with love for the local community in and around the Northern Rivers. The produce is available every Tuesday at the Lismore Organic Market.
What brings you happiness, positivity and in your daily life?
My smoothie bowl in the morning, whatever is new and in season, the birds singing, our dogs, harvesting beautiful produce, the change in season, lighting the fire for the fist time or swimming in the creek when it's hot, meaningful relationships with friends and family, eating lunch with employees, and knowing when we're doing a good job.
What helps you stay inspired and motivated?
Direct interaction with our customers. Feedback from them keeps me super motivated and excited and helps me continue to stay on track. I really enjoy seeing people week after week and finding out how they liked certain products or new produce and what they made with it. Another thing that weirdly keeps me inspired is social media. I follow lots of other farms and really enjoy watching how other people tackle problems and how other farmers do what they do. I love listening to farming podcasts because it keeps my mind active and helps me feel less isolated. I guess I would say over all other farmers help me stay inspired.
What made you want to start growing your own organic produce? Tell us a little about your journey of developing Green Goddess Farm.
Originally I started growing food just for us but anyone who knows me knows I can't just grow one or two spinach plants I have to grow one or two beds of spinach so immediately we had more produce then we could eat. So we started out just selling a small amount of produce at the Kyogle farmers' market and I discovered I really enjoyed it, the farm kind of snowballed from there.
What is your biggest learning experience in the past year?
Recently our place flooded and we lost all our crops along with some major infrastructure. The biggest learning in that experience wasn't "wow that is what a flood looks like" it was more like this is what it's like to lose control. Every aspect of the farm spun out of control from the loss of our crops to the disruption of our daily lives with council workers and huge trucks coming in and out all day. People offered their help and we were so grateful to have support but hardly any of them knew how to farm or do things like transplant or set up irrigation. We were forced to let go and allow people to help even if it meant the cabbages didn't go in the ground in perfectly straight lines or the garlic got mulched too thick in some places and too thin in others. Even though the flood was horrific and I never want to go through that again it was a tremendous time for growth both on a personal level and for the business.
How would you encourage people to have a healthy lifestyle?
I think having a healthy lifestyle has to start from wanting it. I've found that no matter what I say to people if they are not committed to begin with, it's very unlikely they will actually do anything till they are ready. In saying that, once they are ready I think the best place to start is by supporting your local farmers' market. That way people get to meet their farmers and producers, automatically feel supported, and get to taste firsthand the superiority that fresh organic food has over produce from supermarkets. Once people make that first step everything else begins to fall into place.
What inspirational things are going on in your local community?
So many! After the flooding in Lismore I'm so inspired by the mobilization of everyday people helping each other to rebuild in so may ways; people volunteering time, offering services and money, and making sure they support the business that have reopened. I also find the Lismore Organic Market super inspiring. It's the longest running organic market in Australia and it keeps going, every week, no frills just consistency. The stallholders there are so committed to providing local food for local people and the customers are equally committed to showing up week after week to make that community stronger and more meaningful.
What is your favourite health product you use at home? And why do you love it?
My favourite product at the moment is actually something we make. It's our serum made with our calendula flowers infused in macadamia oil blended with a whole bunch of other oils and essential oils. The reason I love it is because it's clean and simple. Nothing added to stabilize the oils and no synthetic perfumes. It's clean and smells wonderful.
What have you got coming up in the next year? Personal/professional goals.
Every season I try and improve on something that ether didn't work or I could have done better the last time. This season my focus is on roots. I really want to prefect my weed management for root crops and produce way more of them in a more efficient way. I know that may sound really simple and not at all like a big goal but it's actually huge. It's the difference between making zero dollars on a bunch of carrots and actually making money on them and not wasting so much time weeding them, time better spent elsewhere on the farm. I guess over all my goal this year is to minimize the amount of time I spend.
You can follow Green Goddess Farm on Instagram or Facebook.
---
Leave a comment